Whoever said that swinging and sex don't go hand in hand, doesn't know how to play his cards right. Intended for your sexiest rendezvouses yet, sex swings deliver the motion, rhythm, and newness you crave in bed. Speaking of beds, sex swings are intended to use anywhere but there, and you can easily set them up against a door, a wooden beam, your ceiling, a joist, or a swing stand.
Sex swings have been largely popularized due to their unique and versatile use in sex. On one hand, sex swings increase the tempo of action and on the other, they let you reach all the right heights and hit all the right angles- all in a smooth, swaying wave. For some users, sex swings can increase the versatility in sex positions, and for others, it is all about staying in place while moving around.
Even for the lovers of fitness, sex swings can be used to boost your flexibility, sex stamina, and offer you a unique play on suspension. Not only are sex swings fun, they also come in different styles and designs, all bound to fulfill your specific needs and desires.
So, how do sex swings actually work and how can you make the right choice for your sex life?
Read on, as we elaborate on the best sex swings on the market and help you make the right move in choosing a great one.
Fetish Fantasy Door Swing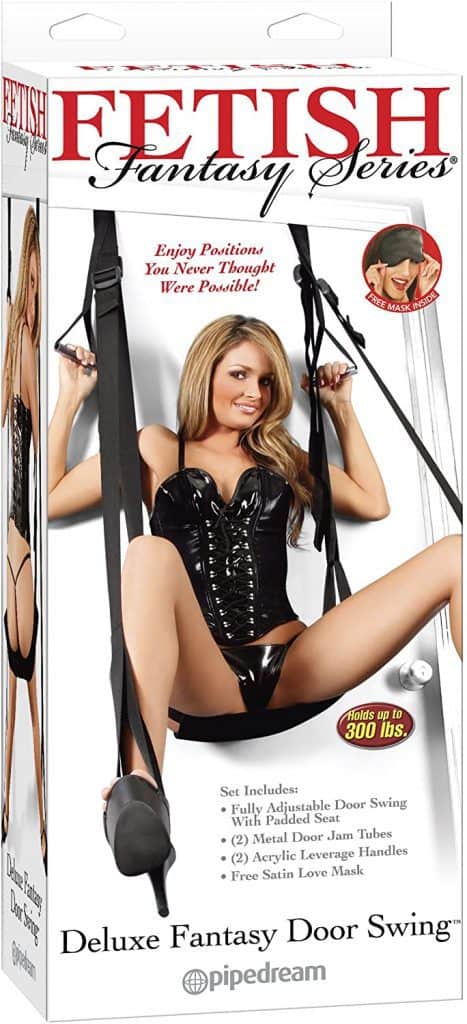 Now, here's a swing to get you moving in all the right ways. The Fetish Fantasy Door Swing might be somewhat traditional- being suspended on your door and all – but it does your pleasure justice in a variety of ways. The accessory comes with portable swing bars which make it ideal for bondage and mastering complex positions and therefore, beginners.
Easy to set up and mobile, the swing has refined mobility and improved motion, allowing you to experiment with some door-to-door action. On top of it all, the swing also spins, which comes in handy if you love a wavy sensation. Aside from its swing bars, this door swing also provides adjustable straps and holds up a weight of up to three-hundred and fifty pounds. To make the gadget even cozier are two padded faux fur straps and a pair of leg stirrups which help support your frame and ensure maximum comfort. The straps are adjustable to use for your back, bottom, neck, or limbs while supporting your entire body. If you are looking for a unique way to use the Fetish Fantasy door swing, we highly recommend position 69 for a mind-blowing oral orgasm.
Sportsheets Sex Swing Door Jam Kit
Although it boasts quite a complex name, the Sportsheets Sex Swing Door Jam Kit serves you with unforgettable sexual pleasure. Labeled a door sex swing, the Jam Kit lets you explore a variety of suspension actions. Due to its practical size, the swing is neat to use in smaller or no-eyebolt spaces. Thanks to its compact design, the swing is easy to store in your closet or under the bed. For those who have no steady ceilings or wall beams, just hang the swing against any door in your house and play away!
One of the best things about the Sportsheers Sex Swing is that offers exceptional body support. Its padded seat holds your butt in place, and you can always use its hand grips for extra steadiness. No worries, this swing also has stirrups for your feet, and it is super-easy to reposition. Keep in mind that a door swing is a more traditional choice that can also limit your sex position repertoire. For the safest experience, when installing your swing, ensure you lock the door and adjust the strap height as desired. Finally, the Sportsheets Sex Swing Door Jam Kit can hold up to three-hundred and twenty-five pounds and while it allows you a firmer grip, it lacks in pads.
Purple Reins Sex Sling
If you are looking for more of a hammock feel, the Purple Reins Sex Sling is your go-to solution. Elevating your pleasure from every angle, this swing is nicely padded and comfortable, and super adjustable as well. It has sturdy nylon straps and a cheeky purple color to zest up your mood even more. Although most swings are used as a form of kink play, this swing offers a cozy, hammock-like feel, fit for couples who fancy subtle pleasures.
The Purple Reins swing is intended for a laid-back experience and arches just right against your spine. It comes with hand supports and stirrups which while not padded are very easily adjustable. The best thing about this swing, especially size-wise, is that it can freely hand in a more private room, like your bedroom. While not a discreet piece, the swing is simple to install, while its carabiner clip makes it easy to hang from your ceiling. Enduring a weight of three hundred and eight pounds, the Purple Reins sex sling might not be exceptionally couple-friendly, but works tremendously well for the suspended or reverse cowgirl position.
Bondage Boutique Deluxe Fetish Sex Swing
Looking for a different take on your traditional sex swing? Have a look at the magnificent Bondage Boutique Deluxe Fetish Sex Swing. Unlike other swings we discussed, this particular one has an industrial bar coated in a plush cover. All straps included in the swing are adjustable to your desired height and angle. Supported by a potent ceiling joist and eye bolt, it is the swings' straps that make all the difference.
On its body, the Bondage Boutique Deluxe Fetish sex swing boasts two support straps, one to support your bum and one to hold your back. Of course, you can experiment with positioning and use the straps in all which way you want. Next are the feet straps which come padded with velvety fabric for extra smoothness. While this swing does not come with its own hand grips, you are welcome to use the nylon straps as an alternative.
Providing an additional layer of pleasure, this swing makes it possible to try out all sorts of positions, including Kama Sutra recommended ones- all while hanging around! Designed to provide extra steadiness, control, and security, the swing makes a perfect prop for bondage play and all your BDSM kinks.
Bondage Boutique Soft Over-The-Door Sex Swing
Here's another great over the door sex swing to get you in the mood for lust. The Bondage Boutique Soft Over-The-Door Sex Swing is simple to install- just slip the bars over any sturdier door in your home, close or lock it, and get playing! This sex swing does not require using ceiling bolts, and aside from a door, it can also be hung on a steady beam.
Although the swing holds up to three-hundred and eight pounds, ensure you test the weight first, thus avoiding any cracks or damage to your doors. The swing is made of nylon and cushioned neoprene, both providing extra comfort and support to the body.
The Bondage Boutique Soft Over-The-Door sex swing straps adjust to every height and angle, while its handgrips and thigh support make a comfy nest for your limbs. The swing enables full steadiness and balance while providing you with a generous rhythm at the same time. Ultimately, the swing delivers an 'upright intimate pleasure' and might require a stronger body to move with it. While not the most generous on positions you try, the Bondage Boutique Soft Over-The-Door Sex Swing is great for initial exploration and a soft, padded ride to OrgasmTown.
Aerial Yoga Sex Swing
If you are feeling a bit looser and more flexible, you can start your sensual exploration with the unique Aerial Yoga Swing. This flexible swing is perfect for discreet activities and can even hang in your room, as it looks like your everyday gym prop.
On one hand, the swing enables sturdy and fixed support and allows you to experiment without the fear of friction or damage. As a super-endurable sex prop, the Aerial Yoga swing holds up to 400 pounds of weight, thus promising definite comfort and lasting reliability. The swing is made of nylon and is completely breathable, which adds more quality and comfort to your adventures. It uses foam-made handles that prevent slips, grip issues, sweating, and hand tiredness. Moreover, the swing comes with adjustable chains that maximize security and deliver a hammock-like feel. Aside from your sexy affairs, the swing can easily be repurposed to a fitness prop, building your core one use at a time.
Choosing the Best Sex Swings for You
Wondering how sex swings work and how to use one safely and pleasurably? When shopping for your ideal sex swing, there are several factors to consider. These include the swing's safety features, comfort options, different styles, the swing's design as well as its purpose. Although affordable sex swings will do you good, they might not come as strong or top-quality as pricier options.
Before getting a new sex swing, ensure you do proper research and figure out what you need from it. Also, you want to go for a swing that is multi-purposeful and is easy to install and put away. For beginners, what you'll need the most will likely be comfort so start your shopping journey there. Again, the material the swing is made of should be durable and resistant to cracks and damage.
Types of Sex Swings
Given the wide range of sex swing types on the market, here is a little guide to help you make the right choice for you.
Sex Slings
Unlike sex swings, sex slings usually look like hammocks and offer grips for the hands and feet. As a popular type of swing in both the straight and gay community, sex slings also work ideally for people with handicaps. If you are concerned about safety, sex slings offer a four-point mounting system, which balances out the weight with each grip or motion instead of relying on a beam or joist for support. Aside from sex purposes, sex slings can be great for napping, reading a good book, or sun soaking in the garden.
The only con sex slings have is that they usually cost more than other sex swings and usually require four ceiling holes to set it up. And while sex slings limit your experimentation with positions, they make fantastic allies in BDSM play and sensual lovemaking.
Sex Swings
As the most popular style of sexy suspension, sex swings usually come with two handgrips and stirrups for your feet. In addition, sex swings have body or butt straps to provide additional comfort. Traditional sex swings are ideal when you want to explore new positions and while not the most comfortable, they cost less than slings. Depending on the brand, you'll find different levels of swing comfort, depending on how intense you want to play. One to remember about sex swings is to avoid crossing the weight limit, as you might damage both the swing and your wall.
Door Swings
Door swings have to be the most practical of all types of swings available. For one, door swings can be easily set up and put away- just hand the swing against any firmer door in your home and you're ready to go. Door swings are also the most affordable of all sex swing types as it doesn't require a lot of installment or space. Fit for people with limited space or those who are renting, sex swings can also be a quite practical prop to take with you when traveling.
The downside to these types of swings is that they don't allow double play, meaning you should use them one by one. Also, door sex swings limit certain sex positions and can sometimes feel harsh on the limbs. The best part about door swings, however, is that they are easy to set up and take down and ensure both beginners and experienced users with memorable rides!
How to Take Care of Your Best Sex Swings?
How to Clean Your Swing?
Suing your sex swing properly also means washing it right after all is said and done. As things tend to get messy when using a swing, you need to ensure no bacteria or infections are left behind. To clean it, you can use a wet cloth and wipe the swing, but in time, you'll also need to wash it. Should your swing come with removable straps, wash all elements separately and then assemble it once more. Most sex swings come with washing instructions, so keep in mind that not all swings are cleaned the same. If no cleaning instructions are available, feel free to contact the manufacturer for help.
Where to Store Your Sex Swing?
If your sex swing is located in the privacy of your bedroom you don't actually have to take it out and store it. However, most sex swings are bulky and quite visible and as they don't look like anything else but swings, you might surprise any guests coming over. As far as storage goes, most sex swings can be easily dissembled and packed in its rightful bag. If the swing does not come with a bag, you can store it in a box and place it in your closet, under the bed, your garage or even inside a bigger chest.
That said, ensure you do not leave your sex swing near humidity, as it might affect the straps and grips. Another thing to consider is that even though your swing is put away, there will still be an eye bolt visible at the ceiling. To cover it, you can add a fire alarm box over it and open it as needed. Luckily, not all sex swings have to be stored to avoid curious looks. Some sex swings can be used as fitness equipment, too, which gives you the freedom to exhibit it anywhere you want.
How to Set up Your Best Sex Swing?
Depending on your sex swing brand and swing style, the installation process might vary. When it comes to door swings, all you need to set it up is a firm and possibly, locked, door. When it comes to rotating swings, you'll need to install one or a few eye bolts in the ceiling. Now, these have to be installed properly to ensure safety, and it is always good you test them out first before using the swing.
If you do not have enough space in your home for a sex swing, then opt to buy a more practical, no-installment kind. Some users don't like drilling the ceiling to install a sex swing. What you can do instead is either use a wooden beam for the same purpose or consider setting up a sex swing stand. Once the bolts go inside, they should never flicker or move. For the utmost safety and security, check the swings' weight endurance, and don't cross it to avoid injuries or incidents.
In the meantime?
Stay safe,
Stay sexy,
Stay Divine.