How many times have you praised the brilliant sex toy designers who came up with the idea to shrink our favorite vibrating sex toys into the size of a finger? Because ever since my lip folds first touched my vibrating lipstick bullet, I've been thankful to its creators! They're small and strong, allowing us to orgasm while discreetly skipping the bulkiness for a more inconspicuous design.
I like their stealthy cuteness and knowing I can keep them in my purse, hidden in the make up case as part of the habitual makeup inventory. Bullet vibrators fit perfectly even in the smallest clutch bag, so you never have to worry about taking it with you throughout the day, be it to relieve stress in the bathroom after a meeting, or as a most welcome pop-out during a coquettish date!
Why are they irresistible? For a couple of noteworthy reasons.
They are crafted in smaller shapes, so they cost less to make and less to buy than the average price for ordinary womens sex toys. Their angled tip provides direct pressure on our pleasure buttons, sparking off sensations to a gradual climax. They are the welcomed 'intruder' when you're playing with a partner, since they're tiny and easy to hold while you melt in each others' touches.
Because of all of this and a lot more, I offer you an insight into the latest stylish bullets inhabiting my drawer and my purse: the Roxie Vibrator and the We-Vibe Tango.
First thing's first – the book's cover.
Packaging
Roxie Vibrator
The Roxie Vibrator arrives in a simple box, supplemented by a discrete silky bag which adds extra elegance to its voguish appearance. Aside from the simple-yet-lavish sophistication this toy oozes, it also comes with a USB charging cable, and a basic instruction manual that turned out to be very easy to follow.
The metallic geometric lipstick cover has a shiny gem at the bottom, which you can use to shift between the 10 different vibrating pulsations.
We-Vibe Tango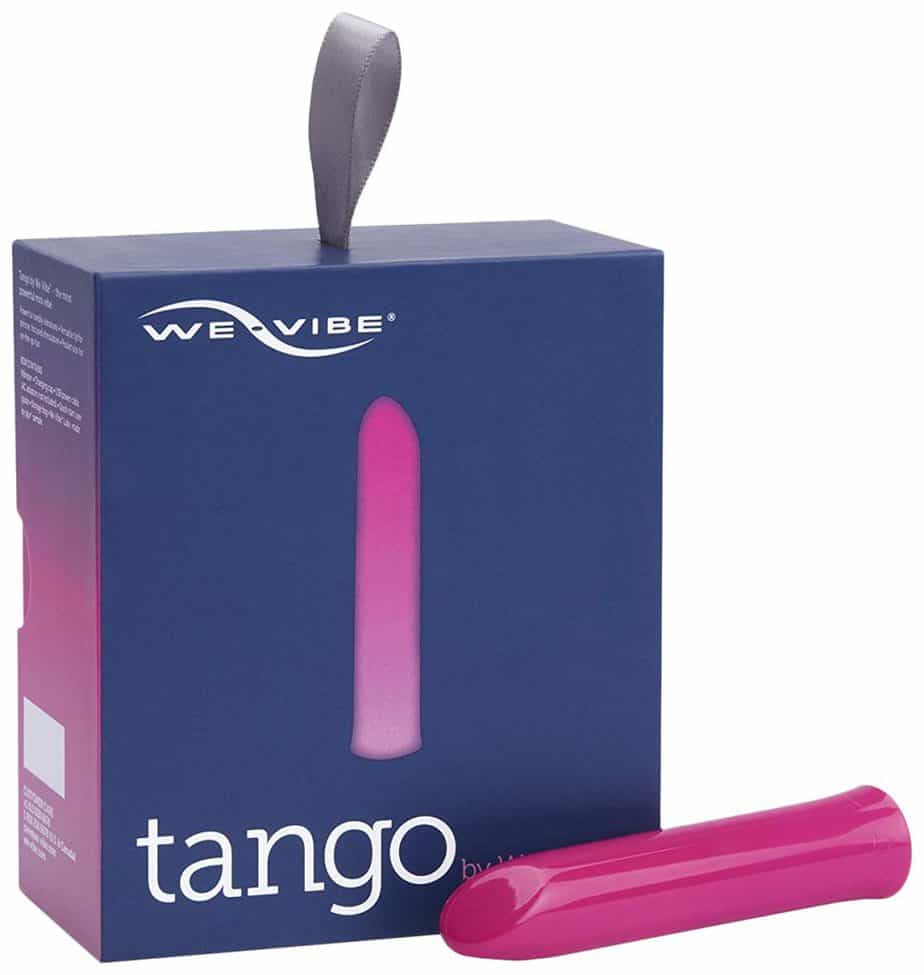 I really fell for the modern design, particularly by the minimalistic infinity We-Vibe Tango logo on the small sophisticated box. Its blue-violet styling reminds me of my naughty nights beneath starry skies – a story I'll share in a future post. The vibrator is aesthetically pleasing and compact, so storing it anywhere around the house or in a bag won't be a problem.
Design and Features
Roxie Vibrator
When you unscrew the metallic diamond-textured cap, this silicone We-Vibe pops out, in the shape of a lipstick. Its adorable neon-pink silicone vibrating lippy has an end that cuddles up perfectly against the clitoris. With a generous amount of lube, the angled bullet-shaped tip can ravish your senses, bringing climax both to you and your partner.
On the inside, this devilish pinkie is powered by a motor delivering 10 varying vibrations, pulsations, escalating at the press of the gem button located on the bottom of the base.
The Roxie's three revving-up speeds and seven playful patterns are just the right recipe for an unforgettable multigasm!
Like many of its relatives on the market, the Roxie Vibrator is USB rechargeable and its battery can last up to 2 hours, just enough to have a couple of unforgettable orgasms for your personal diary. If you start to squirt, don't worry – you can take this little waterproof pleasure-maker with you in the bathroom – it's shower-friendly too.
The most exciting part of carrying around this bullet-shaped secret in my purse comes when I go for some outside time. I like to have it nearby to make things extra-suspenseful while in a restaurant or the cinema, and I'm blown away when I put it in my panties while relaxing in a spa or in a park, breathing in the fresh air through my nostrils and feeling my nether parts intensify.
Seriously, ladies, you ought to give it a shot. It is so worth it!
The only downside? I had to learn to master my moans!
We Vibe Tango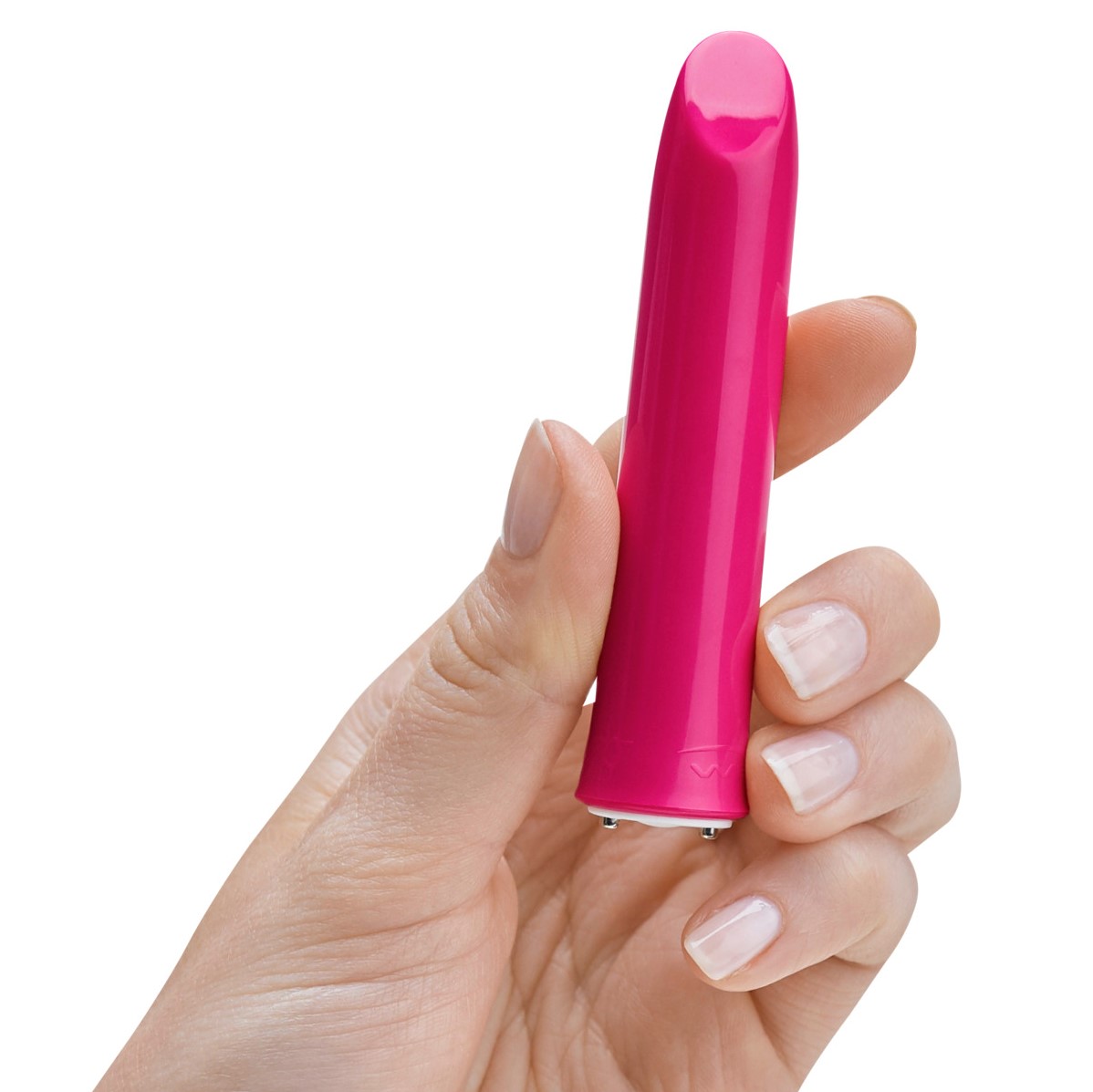 Shiny and elegant, the We-Vibe Tango bullet comes in two colors: sugary magenta and sky blue.
The first time I tested its skills, I had a million questions in my head. Was it a shrunken pinkie-shaped wand massager? How can a thing so tiny pack such a punch? I didn't even press that hard!
The 8 vibration modes are the following, listed same as programmed on the vibrator:
– Low
– Medium
– High
– Pulse
– Wave
– Cha Cha
– Tease
– Ultra
To make things clearer for my own little gentle clamshell, the point of no return was wobbling back and forth even after a minute or two of introductory pulsating vibrations, and I couldn't even reach the Cha-Cha level the first few uses.
The We-Vibe Tango is pocket-sized and can literally fit in the palm of your hand. It can be used internally as well as externally, yet its humble girth might be deceptive. Ideally, this strong little vibrator is meant to be a powerhouse for your clit.
The exterior of the Tango is plastic, except for the button at the bottom which is made of silicone, and two metal bumps for charging. Usually, plastic is not considered the highest end material on the sex toy market but this bullet bears a hard, high-quality body-safe plastic that feels smooth on the clit.
The gently pointed tip is perfect for pinpoint stimulation, and the angle of the tip is perfect for positioning the power exactly where you want it. If your clit prefers vibrations on one side rather than the other, you can steer along with your pleasurable spots on the area that's best for you. Remember: all our bodies are different!
Nevertheless, I have a one-of-a-kind connection with my We-Vibe Tango. It makes my knees shake and my clit happy. It's the strongest, most-rumbling vibrator I've found of that size. It's even insertable in my dildos that can take a small bullet vibe!
Optional Anal Add-ons
You can buy the We-Vibe Tango as single sex-toy, sure, or you can buy the entire Pleasure Mate Kit with two add-ons for it – Dusk and Glow.
The black Dust is perfect for first time anal sexploration, but remember to add generous amounts of water-based lube to your We-Vibe Tango and bottom sensitive parts before playing. Put on the lower vibes on your We-Vibe Tango at the beginning to gently relax and allow your anal muscles to open up. The thrills you will feel are fantastic, and when I finally reached this level, that Cha-Cha mode came in handy!
The Glow pleasure mate is shaped for targeted G-spot stimulation. Its tip is soft and bendable, made of silicone, yet the handle is firm, which enables you to apply pressure for just the right feel when you use it to penetrate. By adding the We-Vibe Tango, it becomes a vibrator, not as powerful as the We-Vibe Tango by itself, but with far more girth to have fun with until the dawn's early hours.
Anyway, I have stuff to do, if you know what I mean, so I have to be wrapping this piece up. Final bit of info for you – the battery of the We-Vibe Tango can be charged in 90 minutes and will go up to 2 hours of pleasure before dropping dead and begging for a recharge.
Final observations
Both of these bad boys have all that is needed to quench my pleasure thirst, and they may do the same for you! Women's sex toys can make you feel grateful for having a clit, whether you play solo or with a partner.
So, what's the takeaway?
Both of these toys have a few differences that make them special in their own way.
The Roxie vibrator is made from medical silicone. It has an elegant appearance and it's convenient to carry around and store. It's super affordable and excellent for both the novice explorers, as well as those who have mastered the sex toy world. Great as a surprise gift that would fit any ladies' purse. it can be your thrill-teaser whenever and wherever you think of adding some extra excitement.
The We-Vibe Tango, on the other hand, is so fashionable and minimalistic, and oh-so qualified! It's quite silent compared to the rumbling of his older cousin, the Wand massager, but it's as relentless and vigorous in raising you to new orgasmic heights.
It's costlier than the other lipstick bullet vibrators on the market, but the We-Vibe Tango is the rumbly powerhouse that sets a standard for all other bullet vibes to be measured against – and that counts for something in my book!
For the lovers of a fierce, firm, pinpoint clit stimulation, the We-Vibe Tango is a truly great choice. The solid angled tip allows you to apply more direct pressure against your most sensitive erogenous points on the clit or the nipples.
No doubt these little helpers will remain true classics and worthy additions in your sexual arsenal. As always:
Stay classy.
Stay satisfied.
Stay Devine.